PPAI Pyramid Award winner!
Check out more about our award-winning promotion with Dassault Systemes
E Group recently won a Pyramid Award from PPAI, for our work with Dassault Systemes at their SOLIDWORKS World 2106 event.
If you could design the perfect event T-shirt, what would it look like? That's the question E Group and Dassault Systemes asked the attendees of their SOLIDWORKS World 2016 conference. Through an online social design contest, we were able to generate excitement around the event months before it began. Users loved the idea of using their creativity to enter a contest that could land their design on over 6,000 T-shirts. We assisted Dassault Systemes in the planning of T-shirts, promotional products, and marketing collateral for the SOLIDWORKS World event. E Group sourced items ranging from water bottles to sunglasses to feature the SOLIDWORKS logo. This tactic was a unique way to increase brand engagement, and spark community between SOLIDWORKS users.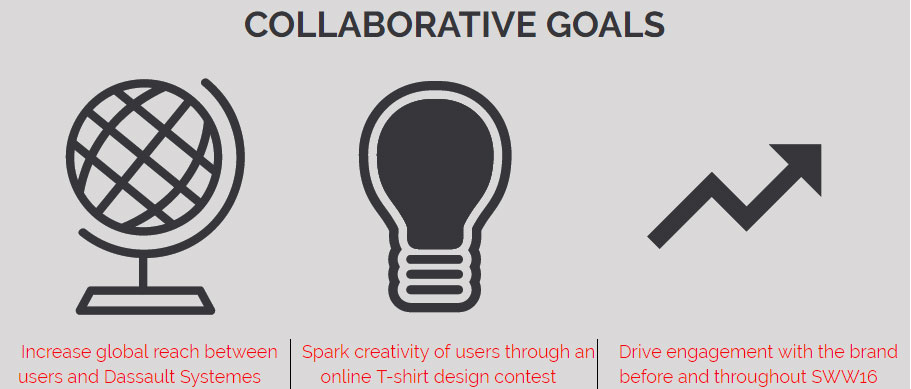 RESULTS
"E Group led us through the whole process from brainstorming contest rules, to designing, building, and managing the contest website, to sourcing and partnering with a live printing vendor, to giving us expert guidance on the physical stock, ink colors, and final designs. This was a fun, new marketing initiative that we were all really excited to implement, but were a bit worried about how to pull it off with our limited bandwidth. E Group partnered with our internal teams each step of the process with ease. They took ownership and genuinely cared if it succeeded. We honestly couldn't have pulled this off without E Group."
~ Amy Bagdonas (Event Planner)
Dassault Systemes and E Group worked closely to achieve all goals within a strict budget. Dassault wanted to provide quality products to their valued users and E Group helped source, brand, and supply these items. In addition to the T-shirts, E Group provided the Dassault Systemes and Solidworks branded products and collateral. All of which helped contribute to an overall successful event.
Author: Elizabeth Boeder
---